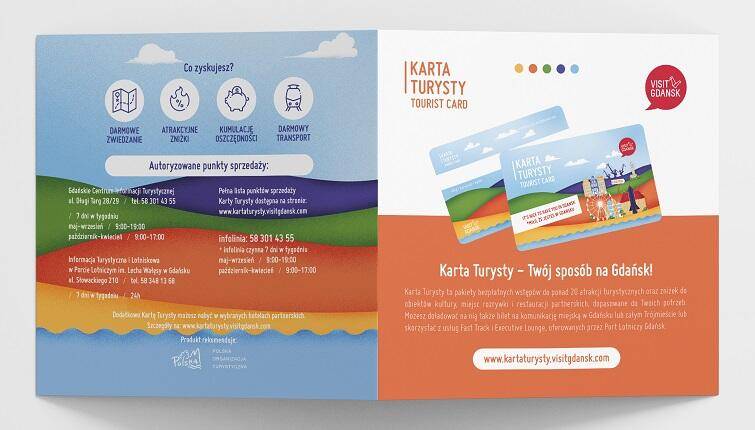 A new version of the Tourist Card and something for football fans!
The regular Tourist Card packages are still available: Family & Fun, Sightseeing, and Transport. But until the end of May you can now also purchase a unique Football Fan Package (72 h).

FOOTBALL FAN PACKAGE

This new option is perfect for those who are visiting Gdansk to witness the finals of the UEFA Europa League, scheduled to take place in the Gdansk Stadium on 26 May. The package is valid for 72 h, until the end of May 2021. This offers football fans an opportunity to explore Gdansk, should they choose to stay a little longer.

So what does the Football Fan Package entail?
Free entries: Main City Hall, Olowianka Island Granaries, Uphagen's House, Artus Court, and St. Mary's Church (with its viewing tower).
3 discounts: European Solidarity Centre, Museum of World War II in Gdansk, AmberSky.
20% discount on Neptun Taxis.
Fast Track service at the Gdansk Lech Walesa Airport included in the price.

NEW PARTNERS

New project partners are always good for Tourist Card holders. The more partners we have, the more places you can enter with a discount or free of charge.

So who has joined our project? We expect those interested in unique water supply architecture and toys to be pretty happy with these:
Reservoirs: Kazimierz, Stara Orunia and Stary Sobieski.
Old Toys Gallery.
BUT THAT IS NOT ALL THE GOOD NEWS
The Museum of Amber is about to (in late July) open its new, beautiful and spacious building – the Great Mill. And with a Tourist Card, you can enjoy free entry as well. You can still purchase a Metropolitan Ticket or the Fast Track and Executive Lounge services at Gdansk Airport. The card is also available at selected partner hotels.
SPECIAL OFFER
Until the end of May the Sightseeing and Family&Fun packages are available as part of a special offer: purchase 2 Tourist Cards, and get the second one at a discount price.
Make sure to regularly check the TOURIST CARD website, where you can find the latest information.
https://kartaturysty.visitgdansk.com/
Please note!
The following attractions are temporarily unavailable due to maintenance:
The Crane
Naturalists' House
Wisloujscie Fortress